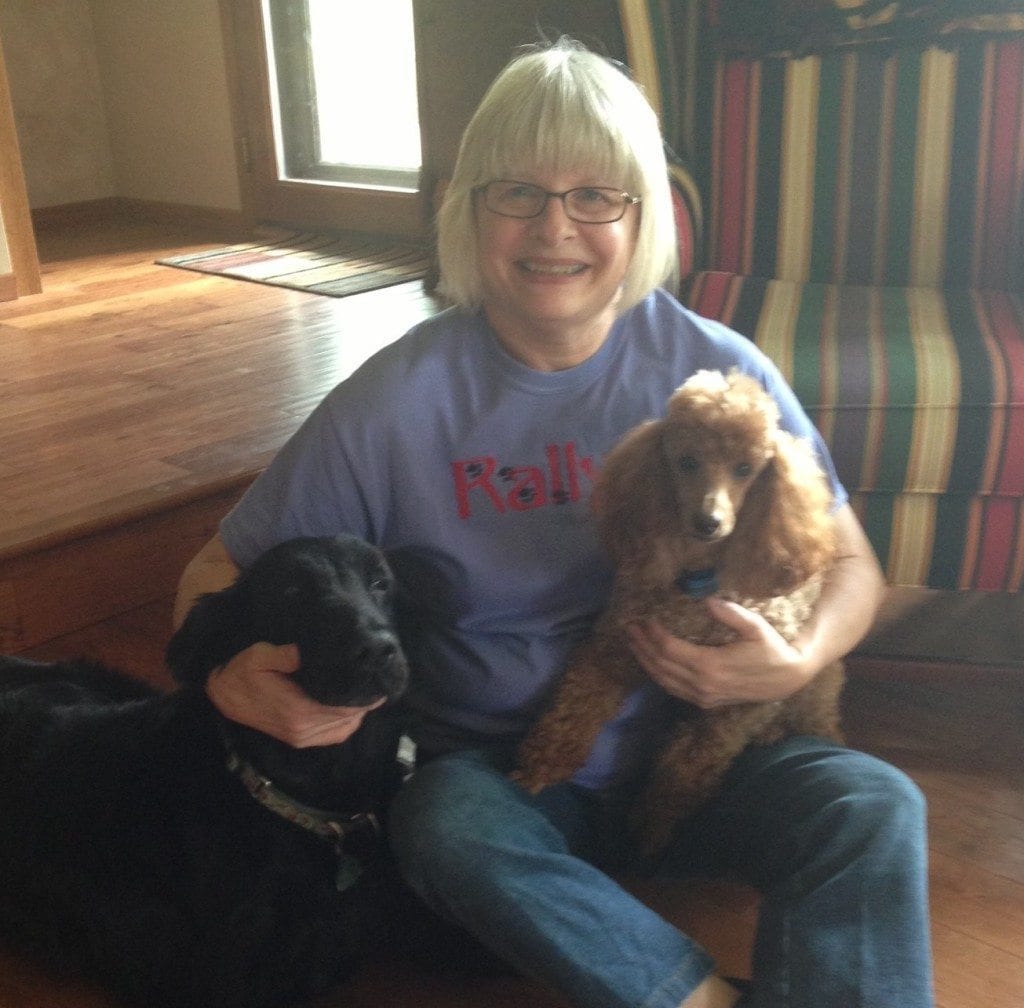 Deb Sommerfeldt
Owner / Dog Trainer / AKC Breeder of Merit
Deb has been breeding, training, showing and competing with her dogs since 1983. She has achieved titles in agility (UKC and AKC) , rally, competition obedience and conformation in AKC. The majority of the dogs (flatcoated retrievers and miniature red poodles) that she has titled, are from her own breeding program.
Along with working with her dogs, Deb continues to stay active as an AKC rally judge, AKC Canine Good Citizen evaluator, Alliance for Therapy Dogs and providing puppy/dog classes using THE THIRD WAY training methods by Chris Bach. At the present time, she is a level 1 trainer and is working on levels 2 and 3. With experience in 4H and additional AKC certificates (AKC Trick Dog and additional Canine Good Citizen levels), Deb continually strives to make her classes dog friendly and fun for both dog and trainer.
After retiring as a kindergarten teacher for 23 years, her life still remains challenging only now through the eyes of our most wonderful companions.
---
Titled Dogs:
Flat-Coated Retrievers
Ch Maplecreek Flap Jack CDX (Bear)
Ch Maplecreek Hot Cakes (Lindi)
Ch Maplecreek Rising Star (Star)
Ch Maplecreek Dream Flight (Dreamer)
Ch Fancy's Autumn Rainbow TDI (Autumn)
Ch Maplecreek Take It To The Top RN (Denver)
Maplecreek Chocolate Mousse RN (Bocuse) major pointed
Ch Maplecreek Mark Of Eden RN (Marcus)
Ch Eden Double Mocha Latte RN (Latte)
Ch Eden Butterfly Kiss RN (London)
Maplecreek Black Swallowtail (Summer) major pointed
Ch Rowansgaard Bright Land
Poodles
Maplecreek Hard To Resist BN, CD, RAE, AX, AXJ, TDI (Mickey)
Maplecreek Commander In Chief BN, CD, RAE, NA, NAJ (Walker)
Ch Sanew's Torquay Red Legacy BN, CD, RAE, AKC Achiever Dog (Paris)
Ch Sanew's Dancing In The Dark BN, CD, RA, AKC Achiever Dog (Josette)
Ch Sanew's Dancin' Down Under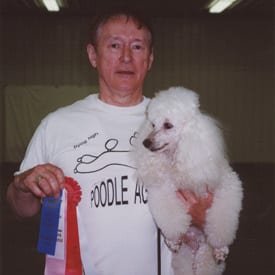 Clay Stebbins
Dog Trainer
Clay has been training and competing with dogs since 1985, and remains active in competition. His poodles have achieved six AKC utility dog titles, four UKC utility dog titles, and two UKC champion titles in obedience. After the introduction of agility in the mid-1990s, he added agility to his training and competing repertoire, and has achieved eight master championships in AKC on two different dogs.
Clay and his kids qualified for the National Agility Tournament in 2008 and 2011.  In the 2011 Tory finished 26th out of an entry of 248 in the 12″ class.  Terin also qualified for the tournament the latter year.
He also has several UKC agility championships on three different dogs. Clay holds an MS degree from the University of Wisconsin-Madison and has many years of experience teaching in the public schools.
Achieved 117 titles over the course of 34 years. The most recent title was by Special Gift(Rudy). It was the AX(agility excellent) in April 2019.
---
Titled Dogs:
The most recent title earned was by Special Gift(Rudy).  He earned AX on 4/26/19. 
Ch. Sanew's Maplecreek Special Gift, AX, AXJ 2016 to present
U-CDX, Pride's Touch of Class, UD  1985 to 2000.
Pride's Cream of the Crop, CDX  1985 to 2000  (Note 1 & 2 competed as a brace team 1988 to 1993)
U-OCH Pride's Ivory Tower, UD  1986 to 2001 (Note 1 & 3 competed as a brace team in 1997)
U-UD, U-ACH Pride's Ryan's Hope, UD, NA, NAJ  1987 to 2002
U-OCH, U-ACHX Pride's Sir Ivory Tyler, UD, MX, MXJ, TDI  1990 to 2006
U-UD, U-ACHX, MACH 6 Maplecreek's Torquay Tory, UD, RE, VER, MXB2, MJS2, TDI 2002 to 2016.  Torquay Tory is now deceased.  His competitive life was from 2002 to 2016. 
U-CDX, AG II, MACH2 Maplecreek's Rippin 'and Terin, UD, RE, MJG, MXS 2004 to present
Total titles earned by Clay are 117 on eight different dogs, all miniature poodles